Hopkins invests in developing global perspectives so students can be engaged citizens wherever they are.
As a global university with students from all over the world, we welcome all kinds of experiences and new ways of thinking. We're here to connect international students with the resources you need to become leaders and active members in our community and beyond.
800

International Undergraduate Students

30

Minutes From BWI Airport

450+

Student-Led Organizations
Meet Our International Student Ambassadors
Who is an International Applicant?
You are considered an international applicant if:
You are not a U.S. citizen, permanent resident (a person who holds a Green Card), eligible non-citizen, or have DACA or undocumented status.
You are a citizen of another country (and not a U.S. permanent resident, eligible non-citizen, or have DACA or undocumented status) and attend secondary school in the U.S.
Applying to Hopkins
There is no separate application for international students.
However, as part of the admissions application, all international students who are applying for financial aid must submit a Certification of Finances form. Any international student not applying for financial aid, if admitted to the university, will need to provide documentation of the available funding for their education.
International Students FAQ
GENERAL
How long is the undergraduate program?
Does Hopkins admit a certain number of students from each country?
Where can I get more information about studying in the U.S.?
What kind of credit is available for IB, AP, and CIE/A-Level courses?
If I am admitted to Hopkins, can I defer my enrollment to take a gap year or satisfy my military obligations?
Who can I contact with questions about international admissions?
APPLICATION PROCESS
Which school documents do I need to submit?
If my school documents are in a language that is not English, will I need to send translated documents as well?
What if my school does not use GPAs or class rank?
Is standardized testing required?
Are admissions counselors familiar with my country's educational system?
FINANCIAL AID
Is financial aid available for international students?
How do international students apply for financial aid? Do financial circumstances impact the admissions process?
What is the difference between need-blind and need-aware?
Can I apply for financial aid after admissions decisions are released?
What if my family's financial circumstances change after I am admitted?
Can I apply for need-based scholarships after I receive my admissions decision?
What is the difference between the Certification of Finances form (COF) and the CSS Profile?
Who should I reach out to if I have questions about the Certification of Finances form (COF) or the CSS Profile?
What is the difference between need-based scholarships and merit scholarships?
Does Hopkins offer merit scholarships to international citizens?
Is the financial aid process different in Early Decision I and II and Regular Decision?
Do you accept the International Student Financial Aid Application (ISFAA) form?
When will I get access to Institutional Documentation Service (IDOC)?
My parents are divorced (or separated). Do they both need to provide financial information?
Are international transfer students eligible for financial aid?
How do I take out a private education loan?
Can I work while I am a Hopkins student?
Campus Resources
Hopkins offers a variety of support to students from many backgrounds, including international students. Check out our resources.
Understanding Financial Aid
We're making a world-class education financially possible for students from all backgrounds.
We meet 100% of demonstrated need for all admitted students. This means we work with you and your family to understand your unique circumstances to determine what you can pay toward college costs. Then, we cover the rest through need-based scholarships that don't need to be paid back, and work-study opportunities.

We are need-aware for international students. If you anticipate needing any financial assistance throughout your four years at Hopkins, you must apply for financial aid as a first-year applicant.
Understanding College Costs & Affordability
Watch as a member of Student Financial Support breaks down how we determine eligibility for financial aid and what goes into our offers.
FINANCIAL CIRCUMSTANCES SHOULDN'T LIMIT YOUR POTENTIAL
If your family demonstrates that you can only pay part of college costs, or none at all, we cover the rest. Follow our step-by-step instructions to apply for need-based scholarships.
Learn How to Apply for Financial Aid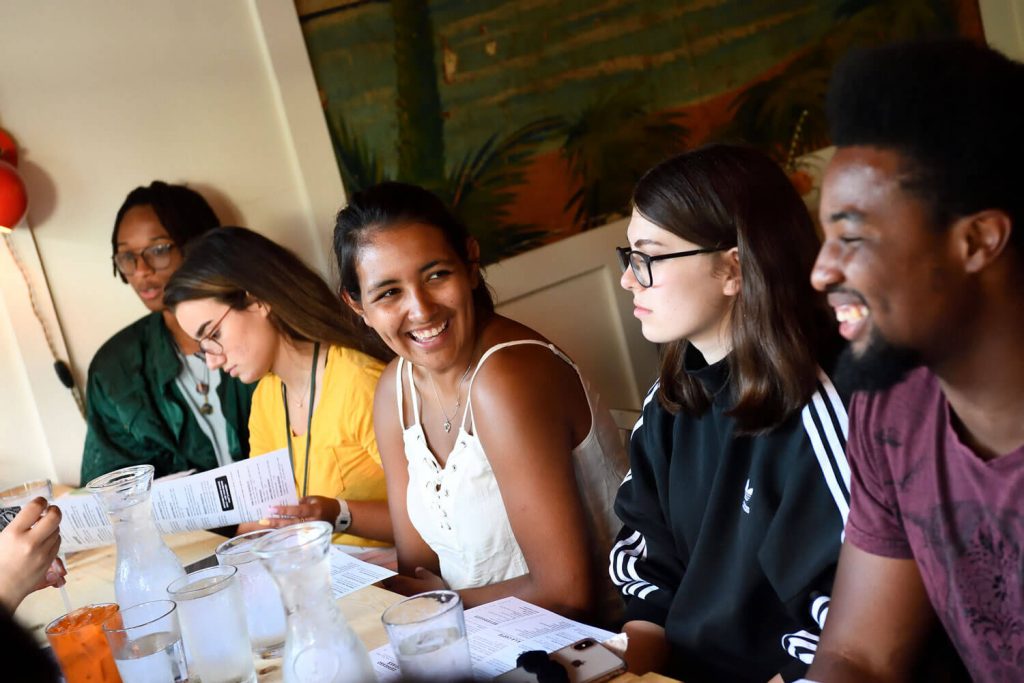 Visa and Immigration
The Office of International Services (OIS) helps to prepare international students, scholars, researchers, clinicians, staff, and faculty with visas and immigration. Please reach out to OIS via ois@jhu.edu with any questions specific to the visa and immigration process.
On this guided virtual tour, our students "walk" you through campus and share their favorite Hopkins experiences with you.
EXPLORE CAMPUS
Join our admissions officers for online information sessions and workshops like telling your story and other application tips.  
SEE DATES & REGISTER