Homewood is where memories are made.
---
Your first year on campus is the time to start meeting people who will shape the rest of your college experience. To build a strong sense of community, all undergraduates are required to live on our Homewood campus for their first two years. Not only is this convenient for classes but it also makes it easier to participate in all that's happening on campus and in Baltimore. With traditional residence halls, suite-style living, single rooms, and gender-inclusive housing, you'll find a space for you that's comfortable and welcoming.

Students in their junior and senior year live off campus, usually within a three-block radius. Our Office of Off-Campus Housing supports this transition by offering resources for finding housing and navigating city living.

Just as important as where you live is where you eat. Our Homewood campus has six locations, so you have plenty of choices when it comes to meals and where you spend time with friends.
"I would spend my weekday afternoons lying on my friends' AMR III A floor. At 9 p.m., we would all simultaneously close our laptops and silently agree to head downstairs to Hopkins Café. We'd grab Taharka Brothers ice cream from the freezer in to-go cups and have a little brain break."

Zosia L.,

'25
5

Residence Hall Options for First-Year Students

72

Student Resident Advisors

20+

Farms Provide Locally Grown Ingredients
On-Campus Living For First-Year Students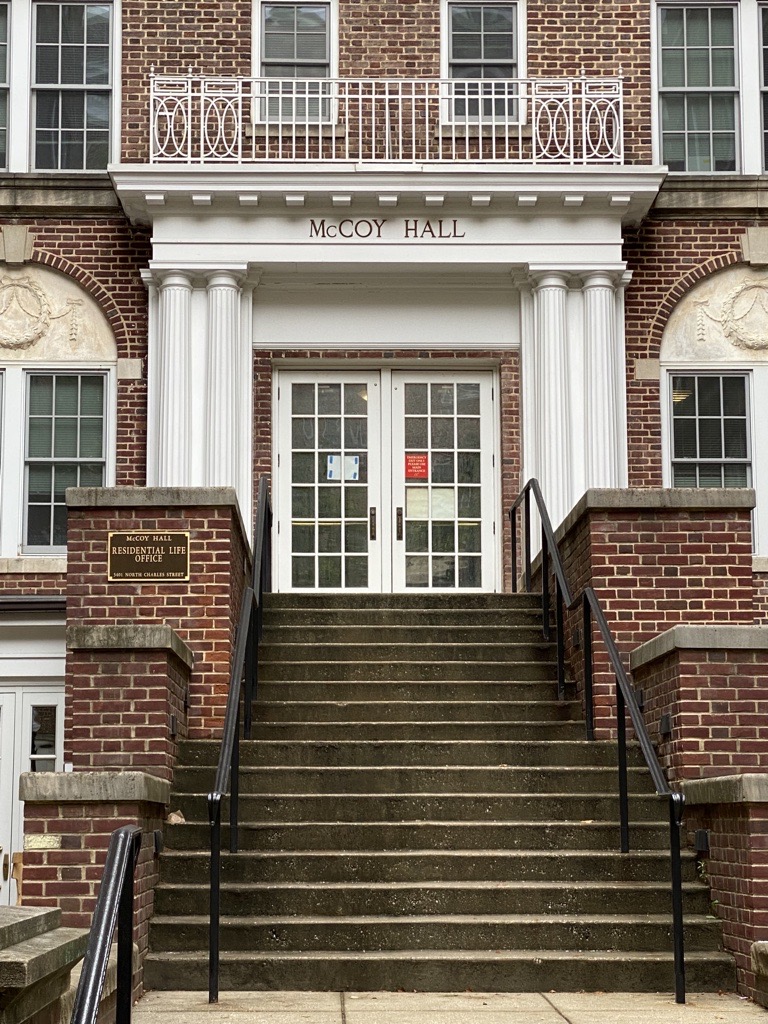 GENDER-INCLUSIVE HOUSING
Our goal is for you to feel empowered and supported at Hopkins, and we understand that not everyone is comfortable living in units with other students that are assigned or chosen based solely on sex. Incoming first-year students who choose gender-inclusive housing should contact Housing and Operations with their needs and are accommodated on a case-by-case basis.
Read Frequently Asked Questions
Since most of your time will be spent outside the classroom, it's extra important you feel like you can be your truest self. Every residence hall has student Resident Advisors (RAs) who are there to support your personal growth and organize fun activities where you can bond with fellow Blue Jays.
Learn More About Residential Life
Admissions Counselor Axel offers different aspects of residential life to think about during your college search.
Check It Out
FOOD THAT'S MADE FOR YOU
Our menus are developed by a team of professionally trained chefs with input from the Hopkins community. We work to meet the needs of students with dietary restrictions, food allergies, or other specific requirements.
On-Campus Dining Options