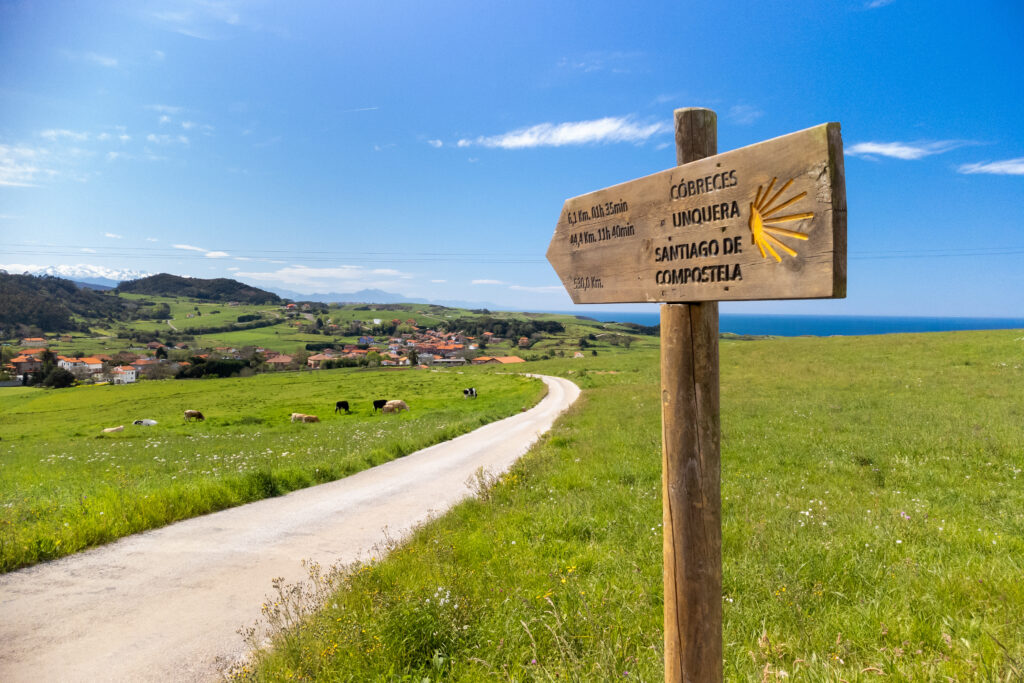 By pablo D., '27
Friday night, September the 16th 2022 and I am packing for my pilgrimage to Santiago de Compostela in Galicia, Spain. It is a tradition at my school that all seniors begin their final year of school by embarking on the "Camino de Santiago" (the Way of St. James). Four days of walking a total of 135 kilometers to reach our destination. We have been told to pack light, a bulky and heavy backpack will hold you back, but to be prepared for: changing weather (lightweight clothes, a jacket, rain poncho) blisters and sore feet (plenty of socks, extra shoes, bandages, antiseptics) and physical exhaustion (dried fruits and nuts, cereal bars, extra water bottles). I look at my compact backpack and I think…it is going to be a long night.
As I settle into the task at hand, carefully packing, unpacking, and readjusting items, trying to make them fit, it occurs to me that we do the very same thing in life. The backpack that we carry on our journey must also be packed light so that it is easy to carry, and it too must be equipped with everything we will need to successfully face the unexpected; to be prepared for anything that comes our way, and this got me thinking, "What do I have in my backpack?"
The first time I consciously chose an item to pack was in first grade. I remember as I listened to my teacher stressing the importance of "good behavior", my interest was riveted on the transparent yo-yo with flashing lights which would be given to the student who received the most merits at the end of the month. I had a goal and I planned to work diligently towards achieving it, and I did. That feeling of success was so fulfilling, so gratifying that it marked a path that I would follow from there on out.
I was twelve when I made a deliberate switch of items in my backpack. I had been playing soccer forever, we all did, it is the sport of choice here in Spain, so many were surprised when I decided to take up rugby instead. My decision was based on finding a sport that not only matches my physical abilities and potential but more importantly it reflects who I am. In rugby, there are no superstars, both victory and defeat are owned by the team with an intense spirit of camaraderie. I have been playing on a federated level for the past five years and all the values that are embodied in this sport – integrity, passion, solidarity, discipline, commitment, and respect – have found a permanent home in my backpack.
There came a time when I realized that something was missing. I was unable to put a name to it, but I would reach for it in certain situations, and it was not there. My decision to do ninth grade of high school abroad, in New Jersey, led me to discover what it was. I had to learn how to put myself out there for people, outside of my circle, to get to know me. I had to open myself up to making new connections and brace myself for possible rejection by stepping out of my comfort zone. This experience marked a before and after in my life for which I will be eternally grateful.
It is 1.00 a.m. and I have finally finished packing; a tight fit, but I have everything I will need. As for my other backpack, I do a quick mental check: a goal-oriented drive, actions coherent with my character, the ability to open myself up to and learn from new and enriching experiences and other items, carefully tucked in there. Am I prepared for what lies ahead? I believe so, and the best part is, I left room for so much more.
Admissions Committee Comments
In Pablo's essay, the act of packing for a pilgrimage becomes a metaphor for the way humans accumulate experiences in their life's journey and what we can learn from them. As we join Pablo through the diverse phases of their life, we gain insights into their character and values. We learn Pablo is determined in the face of challenges and is committed to their own personal growth. Their willingness to embrace change and excitement for the path ahead illuminates their optimism and eagerness for the future. Hopkins students are always up for a challenge and love to embrace new and different things. Through their essay, Pablo paints a vivid portrait of someone who is eager to step out of their comfort zone, making them at home in our community of forward-thinkers.
"After writing this essay, I had a clearer vision of my strengths—personal drive, ability to make coherent and realistic decisions, unafraid to expand my comfort zone to embrace and discover new things about myself—that would make me a viable university candidate. I chose to highlight those strengths in the admissions process."

Pablo D.