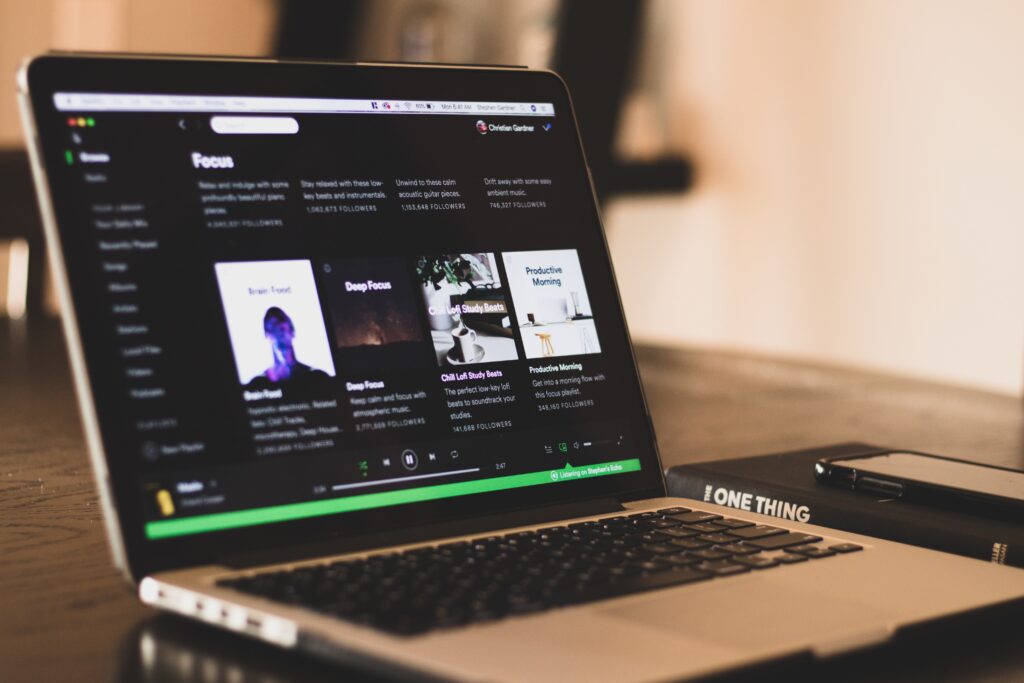 By ALYSSA C., '27
Special memories from the past seventeen years of my life can be captured by my 38 thoughtfully curated Spotify playlists. Each has a unique name, from "studying with ghosts" to "liminal spaces". I hold three in particular closest to my heart, each representing a time when I used music to connect and bring people together. I see music as a powerful influencer — it uplifts, heals, and unites.
"Court's in session," an invigorating playlist that marked my first year on the varsity tennis team. The road to CIF Finals was hard-fought that year. I remember the despair I felt when the team lost two consecutive matches, and our coach pointed out our disconnect from each other on the court. Listening to my Spotify on the way home, I knew I had to come up with a way to unify my teammates. Thus, I pitched an idea for a collaborative, high-energy playlist to be blasted whenever morale was low. The playlist took form quickly and evolved into Tiktok dances on my lead with the participation of the whole team. Being in sync outside of the court made our team more cohesive, which became especially apparent during double's play. This newfound sense of unity and energy would carry us as we went on to compete. Slowly, we took back the games one by one.
"Hollaback Girl" by Gwen Stefani became the anthem and lifeblood of our team, spurring us to the CIF Championship title that year.
"Westridge 2023 bops," a diverse playlist I created to keep my classmates connected during the pandemic. By the time I was elected as sophomore vice president, I had not seen my classmates in person for months and realized with a sinking feeling it was unknown when we could reunite. Wanting to lessen this sense of isolation they often mentioned, I started a new Spotify playlist: "Westridge 2023 bops." Everyone contributed to it with songs ranging from "Fergalicious" by Fergie to "More Than a Woman" by the Bee Gees. Loneliness dissipated as we exchanged music recommendations, fangirled over different artists, and listened to the playlist during class meetings. Realizing I was able to unpause the silence and reunite my class, I dug deeper for ideas; next came a grade-specific Instagram, which included pictures of our classmates' Halloween costumes, virtual art contests, and notes of gratitude for our teachers. I felt my own sense of belonging return as our community strengthened once more.
The spirited melody of "Everybody Talks" by Neon Trees, our established class song, brought my classmates back together and revived our camaraderie.
"Stemology jams," a kid-friendly playlist enhancing our STEM classes. When I co-founded Stemology, an elementary-aged educational nonprofit, I never thought the most difficult component of the process would be earning the trust of the kids. As their concentration waned and chatter increased during our first class, I realized I had to pivot from the original lesson plan. In a desperate attempt to keep their attention, I quickly blasted Disney's "Under the Sea" to match our presentation on marine biology. It worked! Their attention snapped back, and a meaningful conversation about sea anemones ensued. The next class, they shouted with excitement as we played "Fireflies" by Owl City for our lesson on bioluminescence and interjected with their own song suggestions. Before long, the students greeted me with hugs and enthusiasm when I walked into the classroom, eager to guess the day's lesson plan from the song I presented.
The inspirational lyrics of "Counting Stars" by OneRepublic during an astronomy lesson bridged the age gap, as my students and I swapped stories inspired by the constellations we created.
These existing Spotify playlists were my tools to bring together communities, and the memories made with people I have shared my playlists with have shaped who I am. I'm looking forward to new adventures and starting my 39th Spotify playlist with "Don't Stop Me Now" by Queen.
Admissions Committee Comments
Alyssa's essay reflects on special memories through the creative lens of Spotify playlists. They use three examples to highlight their experiences with their tennis team, finding a virtual community during the pandemic, and co-founding a nonprofit to help younger students learn about STEM. Crafting each unique playlist gave Alyssa the opportunity to build meaningful connections with three very different groups. This ability to understand and uplift others shows us how Alyssa will take advantage of the varying organizations and communities on our campus. Alyssa's genuine interest and care for those around them will be an asset to their peers and the larger Hopkins community.
"As an anticipated public health major, many of my classes and extracurriculars reflected a more academic side of my pursuits. By talking about music in my essay, I wanted to show how I think and interact with individuals outside of an academic setting."

Alyssa C.