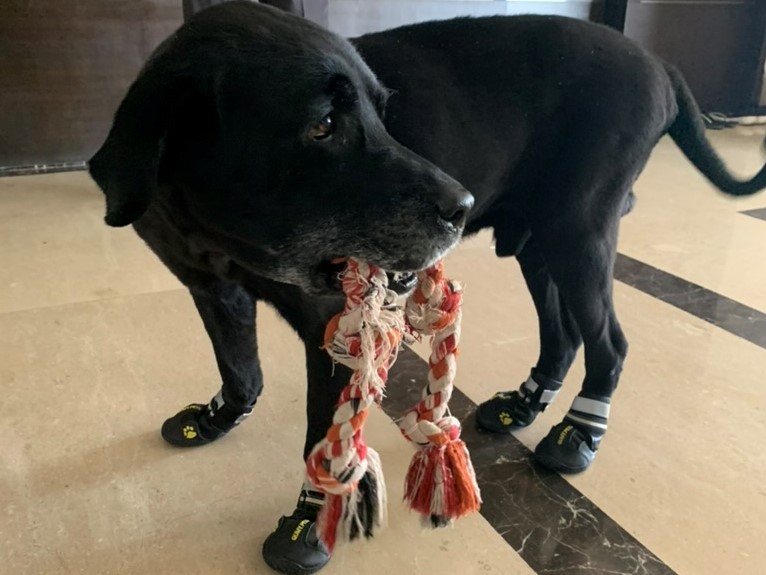 By Kashvi G., '27
Nothing about true love comes easy. Loving comes with hard work, responsibility and compromise. In my case, it came with four legs, PTSD, separation anxiety and in need of constant attention.
Rock came to us when he was 10 years old, retired from the Bangalore police force and in need of a loving home for his last few years. I'd been asking my parents if we could adopt a dog for years. I still wonder what made them say 'yes' to Rock. Suffering from amebiasis and severely malnourished, he had been at the dog shelter for a while, and was on the verge of giving up.
I wasn't ready to parent a senior dog. As the youngest in the family, I was the one who was always looked after. Once Rock came along, I was suddenly completely responsible for someone else's life. Roles like being a school student council member taught me responsibility, but not to care for someone else. I realized the stark difference between acknowledging responsibility and actually taking it on.
It was the small things like recognizing the difference between barks for food or barks to be taken out. It was the bigger things like feeding him 10 pills a day, bladder issues that meant he needed four walks a day and acute PTSD and separation anxiety. Rock was a whole lot of work and needed a whole lot of love.
I thought I knew how to multitask with my varied extracurriculars, but here I was learning a whole new meaning to the word. I thought I had effective communication skills from my time volunteering at a dog shelter, and here I was trying to create a whole new lexicon for what each of Rock's barks meant.
And yet, nothing has come easier to me than my love for Rock. Awkward, unsure of how to express love, and constantly hungry, he and I mirror each other in more ways than one. As a child, I would make my older sister follow me around the house, just to make sure I had her attention. Ten years later, my dog does the same to me.
Anxious and traumatized, he needs me as his therapy human as much as I need him for moral support and inspiration. And, an inspiration he is. Arthritic, limping, and uprooted from his life of ten years, Rock remains the biggest source of joy in our lives. As tough as it was for us to adjust to having him, it was a million times harder for him. But, somehow, he's managed to find his joy with us, too. Whether I leave the room for ten minutes or 3 days, he's always ecstatic when I return. All he needs is for me to show up. There are even times when he wags his tail in his sleep. Our relationship helps us both – he teaches me to be happy and I make sure I always show up for him.
I recently visited the Exploratorium in San Francisco and observed what is known as a mutualistic relationship between Randall's pistol shrimp and prawn goby. The shrimp always has at least one antenna touching the fish at all times – their symbiosis depends on it. Rock and I are always in the same room, always within a foot of each other.
In his essay collection, 'The Anthropocene Reviewed', John Green says, "the Canada goose is hard to love. But then again, so are most of us."
Rocky has taught me that I'm, surprisingly, pretty good at the tough parts of love. That I can be responsible, caring and overflowing with good feelings all at once. Maybe it's just that the love that seems the hardest, that teaches us the most, is the one we treasure most. And for this, and for Rock, I am forever grateful.
Admissions Committee Comments
Kashvi's essay encapsulates a heartfelt journey of self-discovery and the invaluable teachings of Rock, their 10-year-old dog. Through the lens of their companionship, Kashvi walked us through valuable lessons on responsibility, friendship, patience, and unconditional love. Their bond epitomizes genuine friendship, built on trust and a mutualistic relationship where they learned from each other. Through Kashvi's reflections on Rock's impact, we get a profound understanding of their values and personal growth. This essay provides insight into their genuine emotions, allowing us to truly connect with Kashvi as an individual.
"I wrote my essay on my dog because my relationship with him has taught me so much about my own personality. I was able to paint a picture of the resilience and compassion that he has brought out in me. Writing about someone I love came naturally and helped me show the different aspects of my personality that I wanted the admissions committee to know about."

Kashvi G.