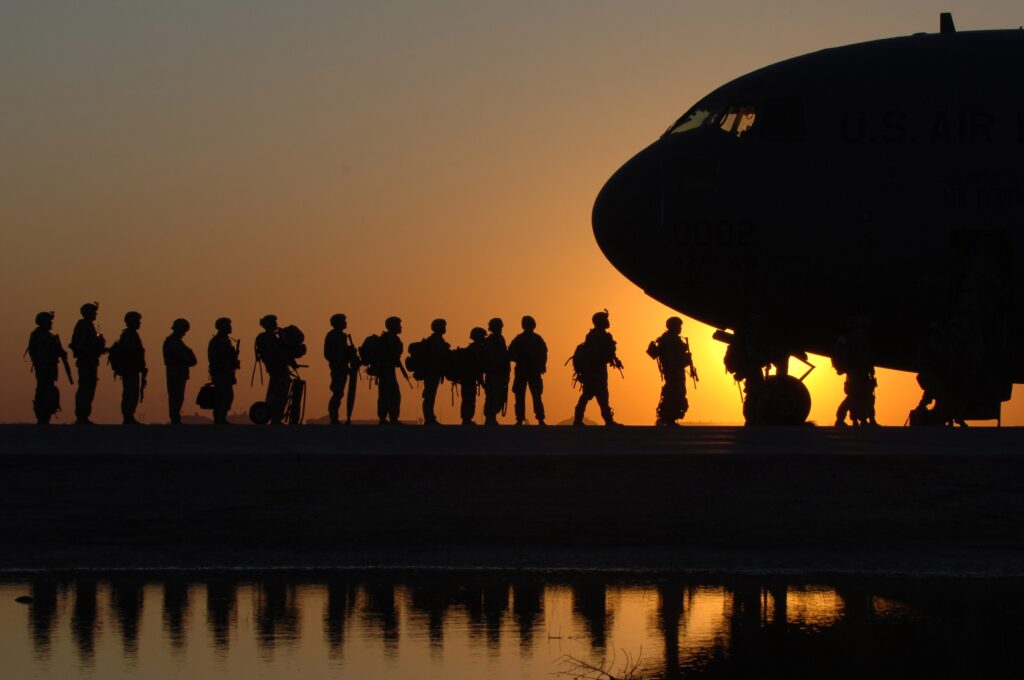 Hopkins Insider sat down with John Kealy, '08, to discuss his experiences as an undergrad at Hopkins and his military career.
This transcript has been edited for clarity and brevity.
Can you tell us a little about yourself?
I've been in the military for 15 years. I did ROTC at Hopkins, graduated in 2008, and was commissioned as a Second Lieutenant in the Army straight out of undergrad. I did active duty for a couple years, and then I transitioned to the New Jersey National Guard, which I work full time with now. I'm a major in the New Jersey Army National Guard and the Black Hawk helicopter pilot and instructor pilot. I'm the commander of the flight facility in New Jersey. I've deployed twice in the last 15 years: once to Kosovo and once to Afghanistan, both as aviation commanders.

I've been married for over 10 years now. My wife is a fellow Hopkins alum. We have three wonderful children that keep us busy.
Did you go into Hopkins knowing you wanted to do some kind of military service?
Absolutely. My father went to the Air Force Academy and served as an Air Force pilot for 30 years. My family really saw the benefits of military experience, especially my father. They wanted me to apply to some of the academies, but I wasn't interested—I wanted a more traditional college experience. That's why I looked at schools like Hopkins. Its ROTC program was a nice compromise between the two.
How did you choose your branch of service?
I was very interested in Hopkins early on and applied Early Decision. Hopkins only had Army ROTC on campus, and it had a very strong reputation and long legacy. Even though it was a small program, it seemed well established, and I wanted to be a part of it.
How did you balance your ROTC commitments with having a more traditional college experience?
The balance wasn't too difficult; I was able to do what I wanted outside of ROTC. I was part of the track team and was in a fraternity. It was great being able to have friends in so many different groups between ROTC, the track team, and my roommates…it made for a well-rounded experience.
How did ROTC shape your time at Hopkins?
It definitely helped with discipline. Especially coming straight out of high school, it set an expectation and timeline of what you should be doing and when. I'm not going to lie; it was frustrating having to wake up at 6 a.m. to do PT (physical training) and run around on Charles Street. Looking back, it was the best thing for me at that time. I received my MBA a couple years ago, and Hopkins definitely prepares you for that. It creates a better student, a better employee, and a better person.
Complete this sentence: My journey to Hopkins would not be possible if it weren't for ____________.
My family. It really helps having that support network. There are certainly challenges when you're at school, and it's nice having a team back home that's behind you, helping you get through those four years.
Who was an influential person you met at Hopkins?
One of my ROTC instructors was Master Sergeant Matt Eversmann, who is the inspiration for Black Hawk Down. In the [2001] film, Josh Hartnett's character is Matt Eversman. He was an outstanding instructor, and during his course we read the book about his experiences in Somalia in the early 90s. Individuals like that are the ones that inspire you. They're able to get through these extremely difficult times and continue on.
Do you have a favorite memory from your time here?
I can't think of anything in particular, but late nights in the library studying with my friends and then going out to do things. Going down to the Inner Harbor to see an Orioles game. Our lacrosse team did extremely well when I was there and won two national championships. Seeing them win a championship was awesome. So, I can't say any one experience overall, but a lot of really good experiences in my time there.
What advice would you give other veterans or service members considering Hopkins?
I don't have to sell it academically. It's one of the top schools in the nation—if someone is looking at the school, they already know that. Hopkins is a very unique experience. It's a smaller school so you don't feel like you're just another face in the crowd. It is academically challenging, but there are a lot of fun things to do, especially in Baltimore. It's a great area. My wife and I love every opportunity we get to go down there and see how the campus has grown in the 15 years since we graduated. It's remarkable how much the school has done.
I know that for myself and for my wife, it's made us better people and well prepared for our careers. We have great friends that we still talk to on a regular basis. It was a wonderful experience that really shaped me and my wife. Basically, anyone I know that's been there could say Hopkins was a huge contributing factor to their later success. It's not hard to praise Hopkins.
The other thing is to enjoy the time you're there. I know it's hard to not get stuck in the library, but there's so many things you could do, and the time goes by fast. Make the most of it. Go to the lacrosse games. Enjoy the time you're there because it goes by too quickly. That's the best advice I could give.