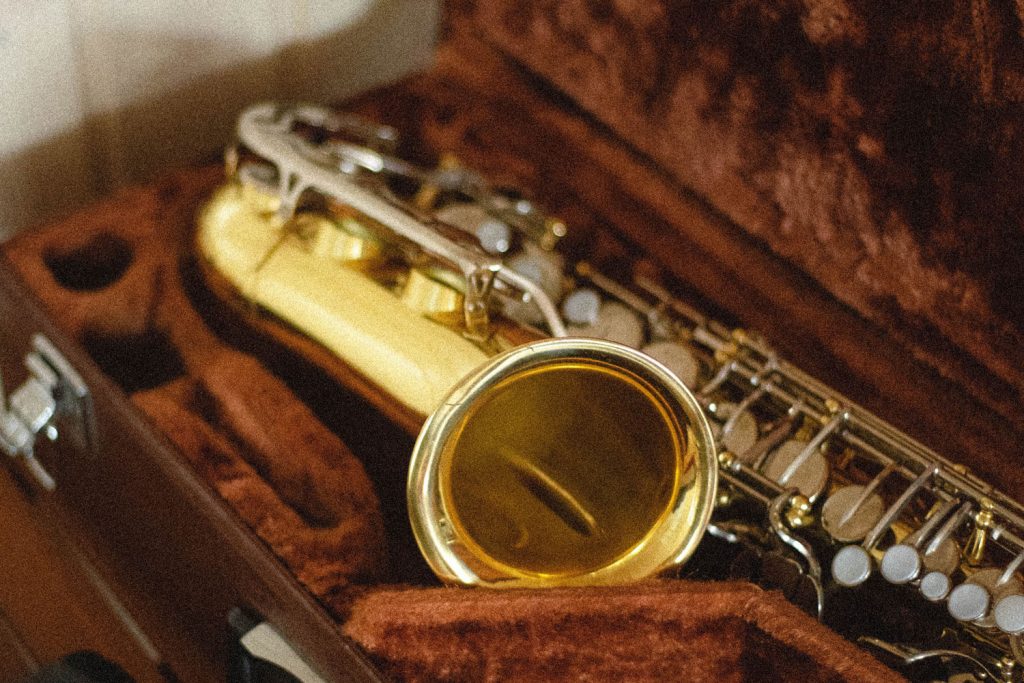 By Curtis
The sound was loud and discordant, like a hurricane, high notes and low notes mixing together in an audible mess. It was as if a thousand booming foghorns were in a shouting match with sirens. Unlike me, this was a little abrasive and loud. I liked it. It was completely unexpected and extremely fun to play.
Some instruments are built to make multiple notes, like a piano. A saxophone on the other hand doesn't play chords but single notes through one vibrating reed. However, I discovered that you can play multiple notes simultaneously on the saxophone. While practicing a concert D-flat scale, I messed up a fingering for a low B-flat, and my instrument produced a strange noise with two notes. My band teacher got very excited and exclaimed, "Hey, you just played a polyphonic note!" I like it when accidents lead to discovering new ideas.
I like this polyphonic sound because it reminds me of myself: many things at once. You assume one thing and get another. At school, I am a course scholar in English, but I am also able to amuse others when I come up with wince evoking puns. My math and science teachers expect me to go into engineering, but I'm more excited about making films. Discussing current events with my friends is fun, but I also like to share with them my secrets to cooking a good scotch egg. Even though my last name gives them a hint, the Asian students at our school don't believe that I'm half Japanese. Meanwhile the non-Asians are surprised that I'm also part Welsh. I feel comfortable being unique or thinking differently. As a Student Ambassador this enables me to help freshman and others who are new to our school feel welcome and accepted. I help the new students know that it's okay to be themselves.
There is added value in mixing things together. I realized this when my brother and I won an international Kavli Science Foundation contest where we explained the math behind the Pixar movie "Up". Using stop motion animation we explored the plausibility and science behind lifting a house with helium balloons. I like offering a new view and expanding the way people see things. In many of my videos I combine art with education. I want to continue making films that not only entertain, but also make you think.
A lot of people have a single passion that defines them or have a natural talent for something specific. Like my saxophone I am an instrument, but I can play many notes at once. I'm a scholar and a musician. Quiet but talkative. An athlete and a filmmaker. Careful but spontaneous. A fan of Johnny Cash and Kill The Noise. Hard working but playful. A martial artist and a baker. One of a kind but an identical twin.
Will polyphonic notes resonate in college? Yes. For instance, balancing a creative narrative with scientific facts will make a more believable story. I want to bring together different kinds of students (such as music, film, and English majors) to create more meaningful art. Understanding fellow students' perspective, talents, and ideas are what build a great community.
I'm looking forward to discovering my place in the world by combining various interests. Who I am doesn't always harmonize and may seem like nothing but noise to some. But what I play, no matter how discordant, can be beautiful. It's my own unique polyphonic note.
Admissions Committee Comments
Curtis compares himself to polyphonic sounds to convey how he is many things at once: musician, English scholar, filmmaker, and baker, among others. We not only get a good picture of his personality through his writing, but also what kind of student Curtis is—one who thinks across disciplines and has creative ambitions, and someone who wants to contribute to a community. These are qualities we value as an institution; the essay helps us imagine the kind of student he might be here at Hopkins.