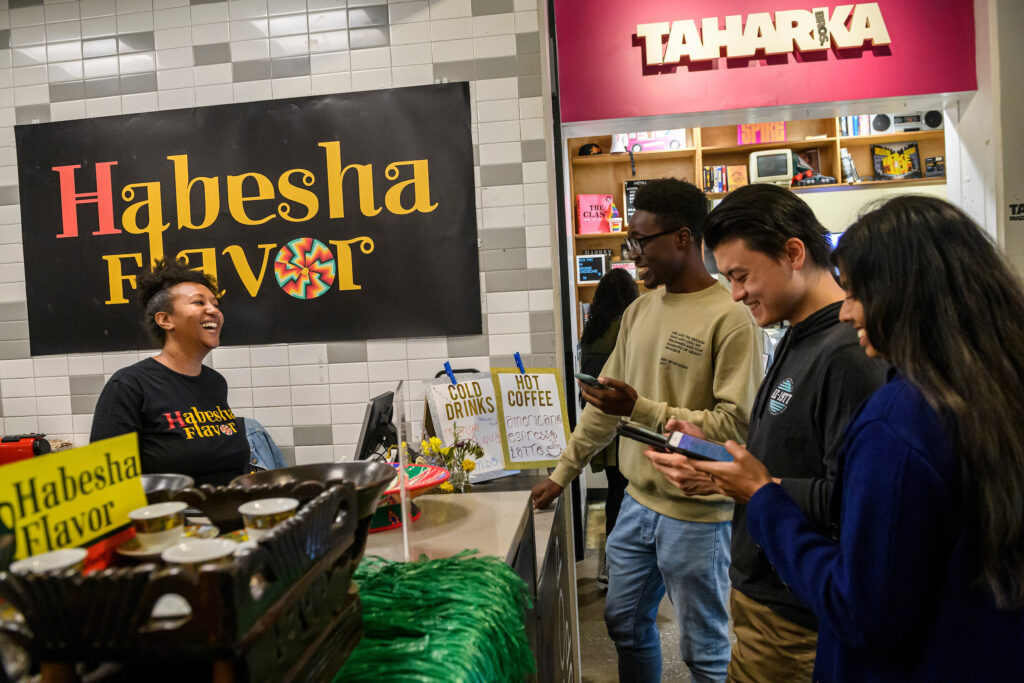 Through internships, conducting research in the community, and connecting with locals through other partnerships, Hopkins students benefit from being in a city that's more than willing to collaborate. Check out some of the ways we've interacted with the Baltimore community and how they've helped us grow.
1. Dianne S., '24

In the summer of 2022, I started volunteering with The Violet Project, a digital platform and education-based initiative that offers information and resources about menstrual and reproductive health to teenagers and young adults. As a patient volunteer, I help educate people in the Baltimore community about these topics and provide them with Violet Project resources in clinics at the Johns Hopkins Hospital and Bayview Medical Center and at community events. 
Working directly with patients has been very personally fulfilling since I am passionate about empowering people to take control of their personal health and destigmatizing sexual and menstrual health. I hope to continue making an impact in Baltimore City through the Violet Project, and encourage everyone to check our website out at violetproject.org!
2. Will P., '25

This past summer, I had the privilege of joining the staff of the Neighborhood Design Center (NDC), a community-centric urban design nonprofit, through Hopkins' Community Impact Internships Program (CIIP). NDC offers planning assistance, including pro-bono work, to projects throughout Baltimore City. I personally worked on the overhaul renovation of the Arch Social Club in West Baltimore, the first Black men's social club in U.S. history. I managed grants, created their Sources & Uses chart, and regularly met with the Upton Planning Committee to aid their pursuit of creating a Black Arts and Entertainment District on Pennsylvania Avenue to honor Baltimore's creative legacy and bring tourism to the city.
My favorite project was assisting with the field redesign for the Northwood Baseball League (NBL), a recreational league next to Morgan State University that has been serving local youth for 50+ years. From these projects and others, I had the opportunity to tour the city, meet with community leaders (even Mayor Scott!), and learn through curiosity.
3. Shanthi R., '23

Taara Projects, the company I founded, would not be what it is today without the genuine kindness and support of not only the Hopkins community, but of Baltimore itself. Our growth has been shaped by our partnerships with local businesses and entrepreneurs who are contributing to the revival of Baltimore's historic role as a creative hub in the garment industry. We are honored and excited to be a part of these efforts and to highlight the work of Baltimore creatives through our platform.
4. Brackton B., '25 and the men's lacrosse team

Sports have a unique way of bringing people together. The men's lacrosse team knows this well, and we're grateful for the privilege of playing lacrosse together at Hopkins. We try to show our thanks by giving back to the community in any way we can.
Recently, we began partnering with the Helping Up Mission of Baltimore, a nonprofit organization that provides recovery services including housing, education, and mental health resources to men struggling with addiction and homelessness. Since last fall, our team has helped to serve dinners and support anyone in need within the program. Our team members also volunteer at Henderson Hopkins Partnership School to lend a hand with extracurricular activities. We receive so much love and encouragement from the Baltimore community and hope we can reciprocate this through our services.
5. Amira R., '24

My summer with the Center for Social Concern's Community Impact Internships Program allowed me to understand the complex nonprofit landscape in Baltimore. Working directly with staff and the partner engagement team at local nonprofit, Fusion Partnerships, I witnessed the incredible dedication Baltimore nonprofits have to missions of social justice in the city. I have a newfound respect for the work they are doing in our communities—I continue to reflect on what I did with the team, and it informs how I navigate systems around me and contribute to long-term social change!
6. Gerry F., '25

I took a class last semester called 1968: Rebels, Revolution & the Right-Wing Backlash, in which we met with high school students from Baltimore Polytechnic Institute and learned about the history of Baltimore in the '60s. It was super interesting—we visited the Maryland Center for History and Culture and heard from guest speakers who were civil rights activists in Baltimore during this period. I discovered a lot about the city and its history from connecting with Baltimore natives (young and old)!
7. Helen S., '23

Through my research in clinics at the Wilmer Eye Institute, I learned that long-term translational projects are about more than just a bond between a patient and their caregivers; they create a support system for each other. For example, while our research on prosthetic vision helped blind patients regain some functional vision, it was also a rewarding learning experience for us as patient volunteers. Research in translational labs is never one-sided; there are commitment and contribution from both researchers and patients.